William Henry Kirby Frankish
William Henry Kirby Frankish was born in 1850, by some accounts in Philadelphia and by others in Brooklyn, but his birthplace was actually in the village of Dummer, Hampshire, England. William's father, Joseph (1826-1884), son of William Frankish and Elizabeth, and mother, Amelia (1827-1917), daughter of William Kirby and Jane Cass, were married on September 15, 1849 in Saint Laurence, Yorkshire, England. In 1851, we find the family living with William's maternal grandfather in the village of Bugthorpe, where his parents were listed as "Schoolmaster" and "Schoolmistress".
William's body was reported to have been identified on December 7, 1876. Two days later, Brooklyn Daily Eagle printed
Action of Gatling Battery on the Death of Dr. W. K. Frankish.
The members of Gatling Battery met yesterday evening in the City Armory, on Cranberry and Henry streets, in accordance with a call issued by Captain John A. Edwards, to take action regarding the death of Dr. W. K. Frankish, who perished in the catastrophe of Tuesday night.
Dr. Frankish was a tall, muscular man, twenty-seven years of age. He was born in Brooklyn and spent several years in Cuba. His parents are residents of Philadelphia. He was a member of Gatling Battery, and his comrades, on ascertaining the sad fact of his death, telegraphed to his father that they would take care of the body, and transmit it to Philadelphia. His father telegraphed the thanks and stated that the deceased's brother, Mr. Joseph Frankish, who resides at 160 Joralemon street, would care for the remains.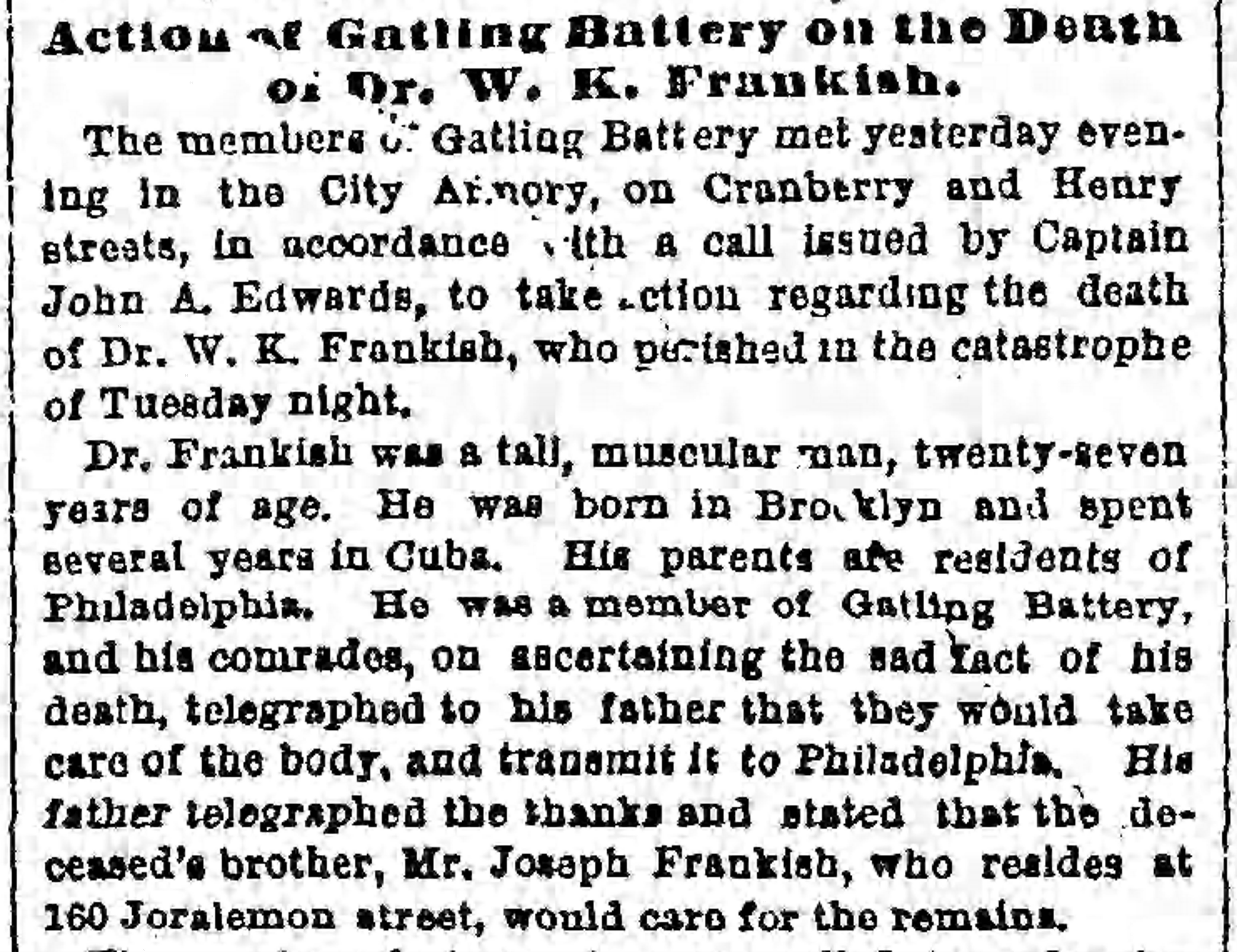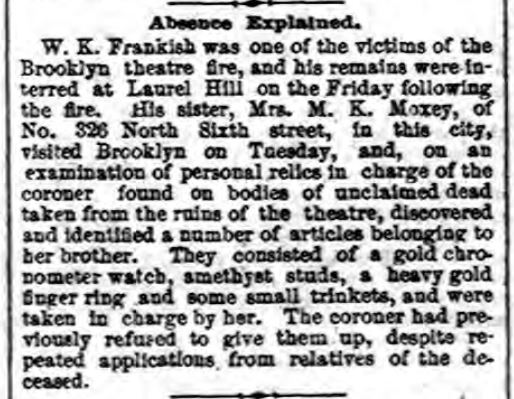 August 23, 1877, The Philadelphia Inquirer, page 2
Absence Explained.
W. K. Frankish was one of the victims of the Brooklyn theatre fire, and his remains were interred at Laurel Hill on the Friday following the fire. His sister, Mrs. M. K. Moxey, of No. 326 North Sixth street, in this city, visited Brooklyn on Tuesday, and, on an examination of personal relics in charge of the coroner found on bodies of unclaimed dead taken from the ruins of the theatre, discovered and identified a number of articles belonging to her brother. They consisted of a gold chronometer watch, amethyst studs, a heavy gold finger ring and some small trinkets, and were taken in charge by her. The coroner had previously refused to give them up, despite repeated applications from relatives of the deceased.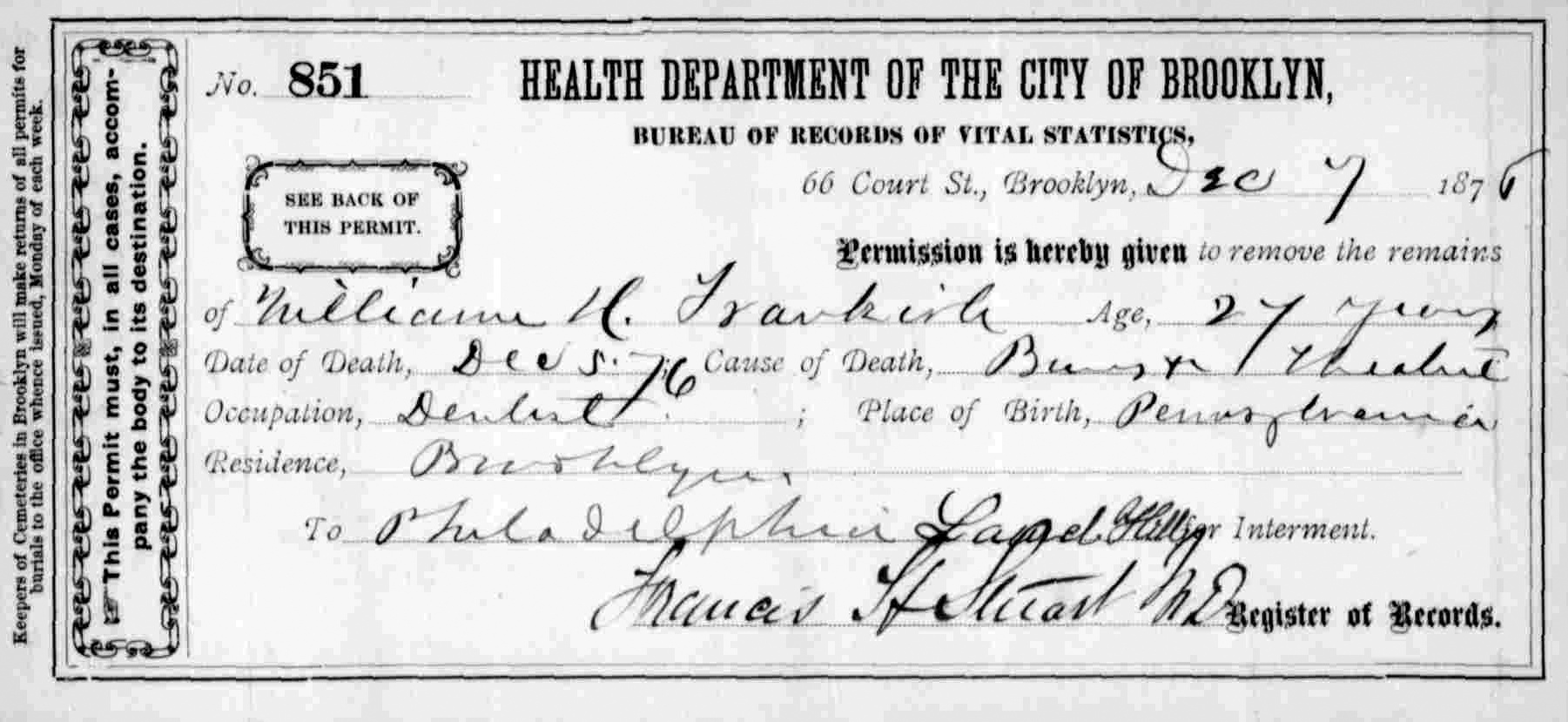 Removal permit from the City of Brooklyn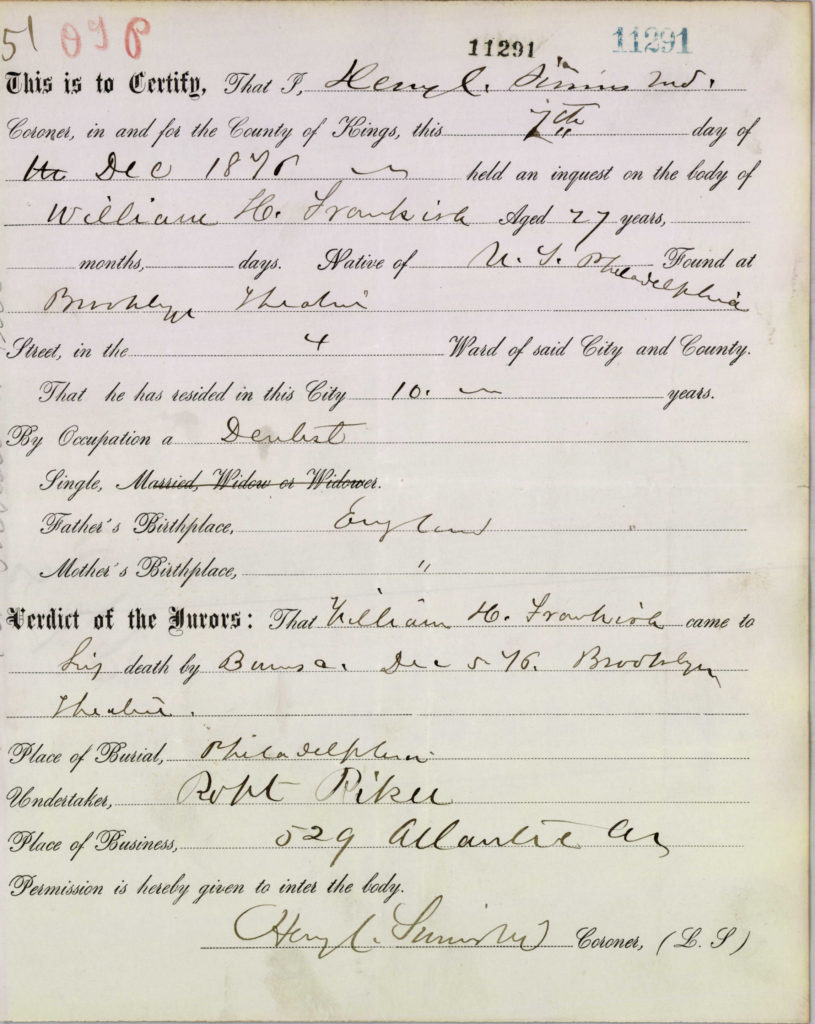 Name: William H. Frankish
Age: 27 years
Native of: Philadelphia
Resident of this City: 10 years
Occupation: dentist
Marital Status:
Father's Birthplace: England
Mother's Birthplace: England
Place of Burial: Philadelphia
Undertaker: Robert Riker, 529 Atlantic
Certificate of Death: 11291