Despite the fact that his death certificate has two different names, this victim of the fire was a young man by name of Louis. There is a name "Lena" that was scribbled erroneously in the certificate filled by Coroner Simms; it is likely, during the commotion of identifying the body, the father of the deceased provided his wife's name, Caroline which was somehow corrupted into Lena….
His name appeared on The Brooklyn Daily Eagle's list of "The Bodies at the Morgue" on December 7 as "No. 21. Recognized as Louis H. Hecht, of No. 431 Pulaski street. The next day, on the cover of The Troy Daily Times, we find under "NOTES AND INCIDENTS [From the New York Sun]" the following story pertaining to our victim:
One of the most horrible incidents connected with the fell catastrophe is vouched for by Capt. Lois Worth. Among the many bodies recovered wa that of Louis Hecht. Louis was clad in good apparel and in addition to a valuable gold watch and chain wore other articles of jewelry which were plain to view as the body lay with the rest. Jacob Hecht, the parent of the dead boy, slowly traversed the line and at last recognized the sought-for remains. He was rudely pushed aside, however, by two men who claimed also to recognize the corpse as that of a relative. They moved off and presently claimed another body. Other parties tried to claim Mr. Hecht's son, and one of them insisted that the personal property on the corpse should be given them.
L.A. Hecht.
This was a young man of eighteen years whose parents reside at No. 491 Pulaski street. Services were held therein at one o'clock this afternoon, which were conducted in accordance with the Jewish rite by the Rabbi of the Clinton street Synagogue. The father of the young man with tears welling in his eyes recounted that his son bore an unexceptionable character, and in proof of the esteem in which the youth had been generally held, called attention to the extensive array of flowers brought in by the assembled neighbors and friends. Young Hecht had been studying law with Blake & Wolff, in New York, and by both of his employers was greatly respected. His was the body that was claimed by two or more other parties, as supposed for the sake of jewelry exposed and other valuables believed to be on the body. The rightful claim of Mr. Hecht could not be disputed and accordingly the blackened corpse was delivered by order of Coroner Nolan. At the conclusion of the impressive funeral ceremonies to-day the remains were removed to the Cypress Hills Cemetery for interment.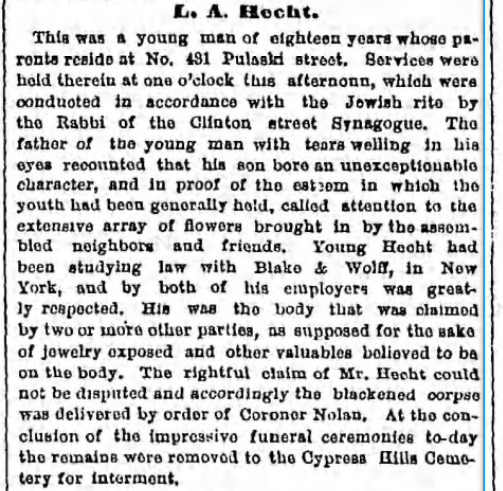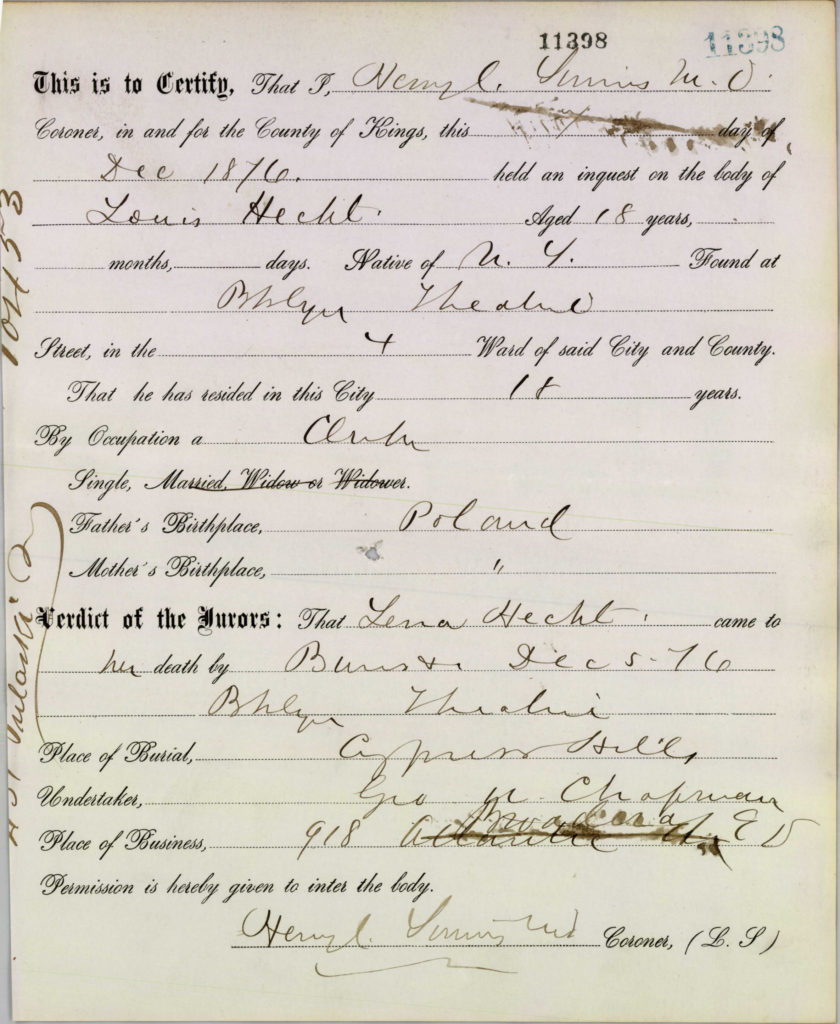 Name: Louis Hecht
Age: 18 years
Native of: U.S.
Resident of this City: 18 years
Occupation: clerk
Marital Status: Single
Father's Birthplace: Poland
Mother's Birthplace: Poland
Place of Burial: Cypress Hill Cemetery
Undertaker: G.W. Chopman, 918 Broadway ED
Certificate of Death: 11398