Anna Fredricha Smith was mother of Alvida Theodora Simpson. They both died in the fire. Their story will be continued here.
Brooklyn, 29 Middagh Street
December 20th, 1876

To
Hon. F.A. Schroeder,
Mayor of the City of Brooklyn.
Hon'd and Dear Sir,
The Bearer hereof,— Mr. Charles E. Schmidt,— is a native of Denmark, and (with the exception of a younger Brother) is the only survivor of nine children born of once wealthy and influential Danish parents.
At the late calamitous fire in the City his mother and only sister (the latter a married lady) perished in the flames, and xxx their charred xx bodies removed from their former abode, No. 141 Sands Street, to a receiving vault in Greenwood Cemetery, there awaiting other disposal.
Becoming accidentally acquainted with Mr. Schmidt and with the circumstances herein mentioned, — and having been informed that he is almost without means, and suffering from a severe Pulmonary disease, — I, as a citizen of Brooklyn for nearly forty years, — deemed it to be my duty to advise him to seek Relief from the Fund of which you are commonly (and I think justly and properly) regarded as Treasurer and Dispenser in Chief.
At first, I hesitated whether to write to you or to your most worthy secretary, — my true and trusty friend Albert Daggett, — but, on reflection, I concluded that to address you was my most courteous course.
Therefore this communication directly to you.
In its results (whatever they may be) I have no interest save in the cause of justice and humanity. —
With an unreasoning xxx (but perhaps xx pardonable) pride, Mr. Schmidt himself would have declined to ask xx from the public bounty any portion of its generous contributions; but I indulge the hope that you will agree with me that, in his great bereavement, he ought to share with others whatever benefits may be derived from a fair and just distribution of the general Charity.
I am,
Dear and Honored Sir,
with great Respect,
Your Obedient Servant,
John Lomas,
Atty. & Couns. at Law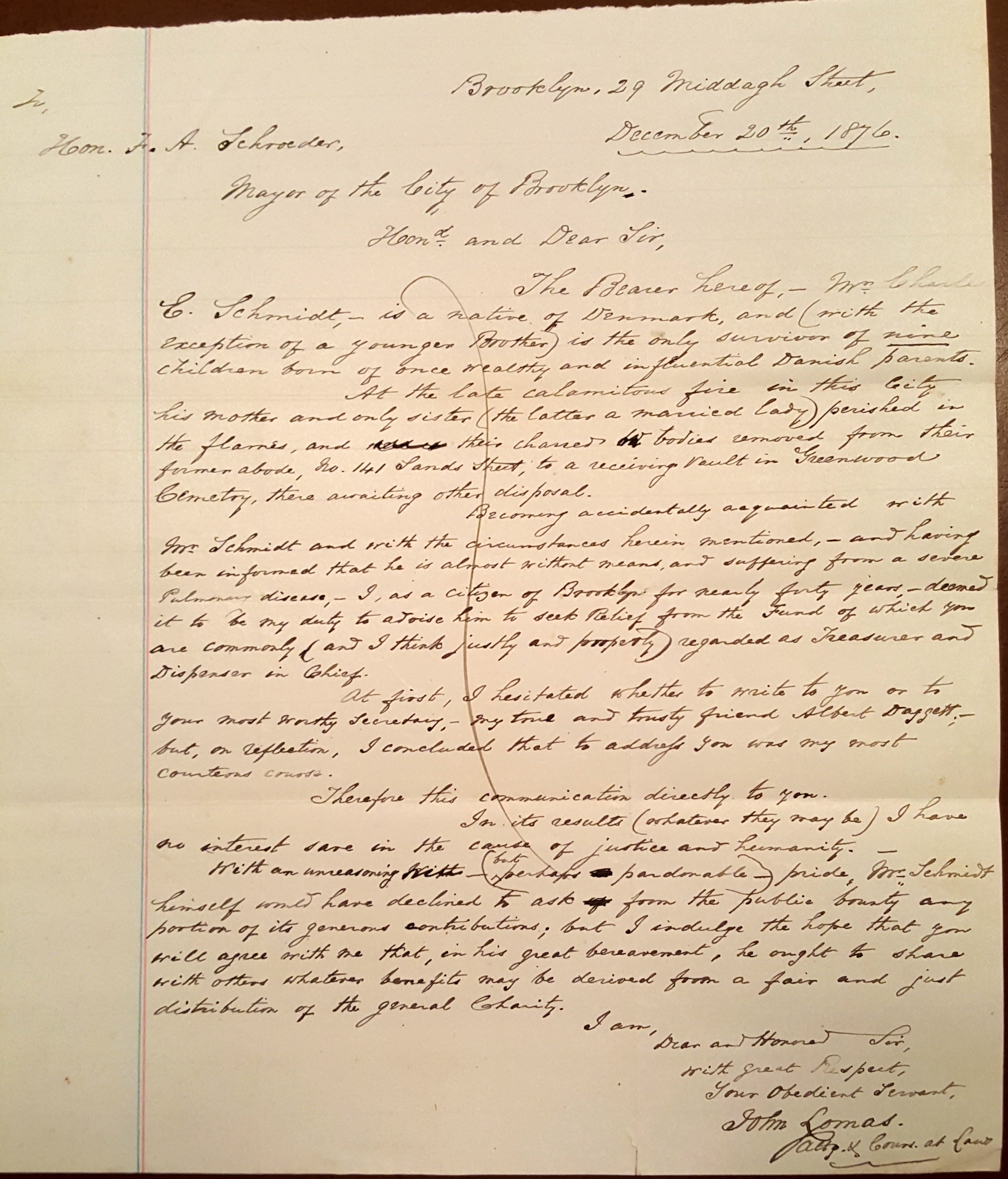 Courtesy of the Brooklyn Historical Society,
Brooklyn Theater Fire Relief Association Records, 1876-1879, Case Notes (R-S)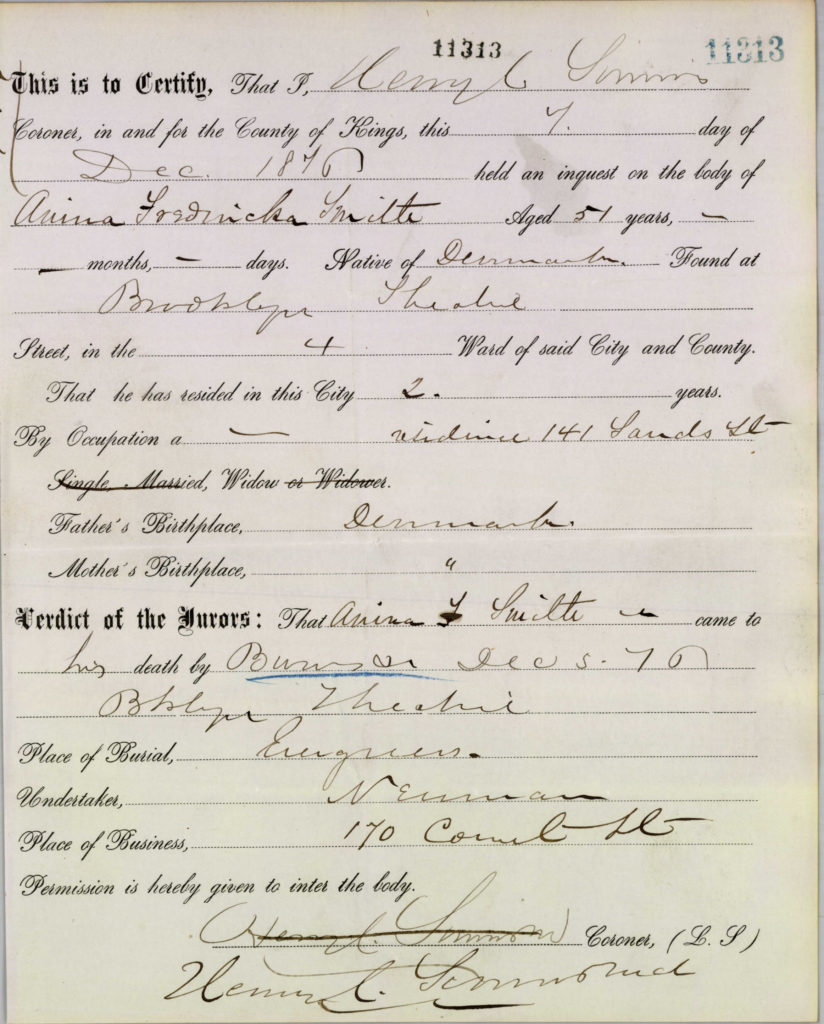 Name: Anna Fredricha Smith
Age: 51 years
Native of: Denmark
Resident of this City: 2 years
Occupation: 141 Sands Street
Marital Status: widow
Father's Birthplace: Denmark
Mother's Birthplace: Denmark
Place of Burial: Evergreen Cemetery
Undertaker: John H. Newman, 170 Court
Certificate of Death: 11313